Toby Flenderson
Comments

27
1,092pages on
this wiki
Toby Flenderson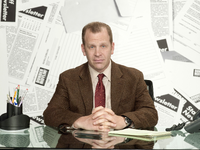 Occupation
Author, Former Human Resources Representative
Toby Wyatt Flenderson, is a fictional character in The Office played by Paul Lieberstein. Prior to his termination in the series finale, he was the Human Resources Representative at Dunder Mifflin/Sabre: Scranton Branch.
Character Information
Edit
Season 2
Edit
Despite Michael's hatred of him, Toby attends the Dundees. However, as Michael doesn't explain his relationship with Toby until the next episode, it is possible that the writers didn't have Michael hate Toby yet. Toby is seen laughing when Stanley makes jokes during his acceptance speech for his Dundee (The Dundees).
Due to the recent events involving the company's CFO having had inappropriate relations with his secretary, Toby tells Michael that he must hold a seminar on sexual harassment in the workplace. Michael seems less than enthusiastic and tells the cameras that since Toby works for HR he works for corporate which doesn't make Toby part of their family. Toby later holds the meeting to which Michael openly revolts. A tired looking Toby then sits in Michael's office while Jan warns Michael to end his innapropriate behavior (Sexual Harassment).
When Jim learns that everyone around the office has their own little game to relieve them of boredom, he learns "Hateball" from Oscar and Kevin. Oscar later recommends that Toby teach him "Dunderball". Jim later plays the game with Toby. Toby partakes in the Office Olympics and competes against Oscar in a game involving a race around the office with a full cup of coffee in hand. Toby is present at the closing ceremonies (Office Olympics).
Toby stands around in the parking lot with the rest of the staff during the fire. He is seen in the background talking to various staff members and has no lines in the episode (The Fire).
Toby dresses up for halloween but as he only appears in the background his costume is unclear. He appears to be wearing a dark green V-necked shirt. He is later invited to meet Devon at Poor Richard's for a drink and he goes (Halloween).
During Michael and Dwight's confrontation in the kitchen, Toby interrupts to see if Michael signed the paperwork yet as if he hasn't then that means he would have to stay late. Michael tells him to go away. Toby later asks Michael if he can sign the papers so he can go home but Michael responds with "Toby you don't even have anyone to go home to". Toby and several other office staff members later end up signing the paper work for Michael (The Fight).
Toby is not present at the reading of "Threat Level Midnight". He was likely back in the annex working (The Client).
Toby was present at Michael's meeting on how to improve the branch but never says anything (Performance Review).
Toby was invited to attend Jim's barbeque. He is seen in the background playing video games with Sadiq (E-Mail Survelience).
Toby was present at the Secret Santa ceremony. In a deleted scene it is revealed that Kelly got him and she got him a book of short stories. When Michael buys the office vodka, Toby tells him that alcohol is not allowed however Michael tells him to "zip it". Toby apparently goes slack on this rule as he says nothing more and later Michael sends him to fix Todd Packer up with a drink, a vodka bottle in hand (Christmas Party).
Toby was present at Michael's motivational speech meeting however was not on the booze cruise. In a deleted scene it explains that Toby got to the docks late on purpose in order to miss the boat (Booze Cruise).
Michael, trying to be Jim's friend, takes him out to lunch at Hooters. Angela however is upset and believes that Michael had no right to classify it as a business lunch. She takes it to Toby who tells Michael that he just got his card back and warns Michael he probably doesn't want it taken away again. It is revealed that Toby had taken it away after Michael bought a magic set to impress potential clients. During his argument with Toby, Michael accidentally reveals that Jim has a crush on Pam. Michael later blames Toby for why he let loose the secret (The Secret).
Michael decides to take the office staff on a field trip to the warehouse. Toby, the last in the line, however sneaks away back into the office (Boys and Girls).
Michael moves Ryan to be near Kelly, which annoys Toby. He is unsure whether this was intentional on Michael's part. He has a crush on Pam and spends hours trying to win a stuffed animal from a crane machine that she likes only to have her suggest he give it to his daughter. Toby also brought a good looking woman as his date to Phyllis' wedding in which Kevin assumed that she was an escort but Toby stated that he met her at the gym. He won the marathon to cure rabies. 
Toby wins the 5K run in Fun Run. In Night Out, it is revealed that he will move to Costa Rica. In the season finale, Toby has a huge going away party, which Michael says matches the joy in his heart. Toby purchases a camera just so he can take a picture with Pam. In one episode, Jim, Pam, and Toby start laughing, Toby puts his hand on Pam's knee. Jim sees this, and Toby announces "Umm... I'm moving to Costa Rica. I've thought it over... so yeah." Then he runs out the door and hops the fence.
In Weight Loss, Toby appears at the end. It is shown that he is in a hospital in Costa Rica for breaking his neck in a zip line accident. Finally, to Michael Scott's absolute horror, Toby returns in Frame Toby. Michael is desperate to get Toby fired and goes to the Vance Refrigeration warehouse to buy pot, which he then puts in Toby's desk. When the police come, they find that the alleged "pot" was just a Caprese salad. Michael seems to hate Toby even more, if possible.
During The Meeting, Toby and Dwight try to find out if Darryl is really hurt and bond over a mutual interest in trains. Toby accidentally calls Darryl's sister an asshole. In Niagara, Toby seems thrilled when Jim and Pam cannot be found and joyfully says, "Looks like this thing isn't going to happen." It does. In The Lover, Michael tries to befriend Toby to try to get him to stop Pam from being mad at Michael, but when Toby fails, Michael calls him a jackass.
When Michael pushes religion in the office during Secret Santa, Michael calls Toby the antichrist. In The Chump, Michael was interrupting Toby's meeting that Radon is silent but deadly. Michael quiped if he had a gun with two bullets and he was in a room with Adolf Hitler, Osama Bin Laden, and Toby, Michael would shoot Toby twice. Michael then corrects himself, only mentioning that he would only shoot Toby once. In Whistleblower, Jo Bennett criticizes Toby's mystery novel that he was writing in his spare time at work. However he does not appreciate her criticism and states in a floating head interview, "Write your own damn novel." In the same episode, Toby tries to get a candy bar that was stuck in a vending machine by tilting that machine over. Dwight comes over to help him but soon abandons Toby to answer a phone call. Toby is seen trying to hoist up the heavy machine.
When Michael spanks his nephew Luke, whom he had recently hired, he was forced into counseling with Toby (Counseling). Michael was resistant to cooperate, giving the silent treatment, telling false stories about his life, and eventually giving Toby the finger.
In the season premiere, The List, Toby is put on the same side of Robert California's list as Jim, Dwight, Kevin, Oscar, Phillys, and Darryl. When his side is taken out to lunch by Robert, and Kevin starts talking about how he likes Elmo because of "the tickling", Toby says "I should not be here," and leaves.
Andy consults with Toby over firing Nellie. Toby refuses, as Nellie has no record of misconduct. Andy chews him out, saying "no wonder Michael hated you".
It is implied that Toby had a crush on Nellie since she dressed up as him in Here Comes Treble (Episode), he tried to kiss her in that same same episode but backed away. In Dwight Christmas, she kissed him while he was talking about being on jury duty for The Scranton Strangler case. After she did that, Toby took off his glasses and kissed her passionately. 
Toby gets Pete and Clark to participate in the Movember fundraising program. Toby's moustache grows rapidly during this time, but in such a way that makes him look unsettling. In a deleted scene, he mentions how he can't pick his daughter up from school anymore because everyone assumes he's a child molester. Toby considers wearing a ski mask in the future.
Toby spends the rest of his appearances trying to woo Nellie. Nellie gets tired of hearing about the Scranton Strangler case and tells him to resolve the whole thing right now. Toby goes to the penitentiary and tries to make peace with the strangler, but is strangled himself and taken to hospital after his larynx is damaged.
Toby consults with Jim on his marital problems while Nellie talks to Pam. Toby implies that he, Kelly and possibly Ryan were all betting on how long Jim and Pam's marriage would last. Kelly called 2013. Toby may still feel sore about his divorce, becasue as soon as Jim brought it up, Toby snapped at Clark and muttered "I'm gonna eat him".
Toby was terminated in the series finale. He stalks Nellie, despite recieving several hints that she doesn't like him. Toby mentions during a panel discussion on the documentary that his life feels meaningless after the documentary finished. During Dwight and Angela's wedding, Toby gets to dance with Pam. He cries openly, stating that everything's wrong.
Personal life
Edit
Toby's parents divorced when he was a child. Both parents wanted custody, and both asked him to testify against the other in court. He was unsure what to do because he loved both his parents and didn't want them to get divorced in the first place. ("The Deposition")
Toby likes Pam. He attempted to ask her out in The Convention, but was unsuccessful. He got nervous, and pretended to forget what he had wanted to say.
Toby went to Bishop O'Hara High School, the same high school as Katy, the purse sales girl and Jim's girlfriend during the early part of the second season. ("Hot Girl")
Toby joined the seminary but dropped out after a year to pursue a woman named Cathy. He followed her to Scranton and took the first job available, which was in Human Resources. The two married, and had a daughter, Sasha. They later divorced. ("Casual Friday") (This story contradicts the claim that Toby went to Bishop O'Hara High School, suggesting he grew up in the Scranton area rather than moving there as an adult.)
Toby's ex-wife remarried and is now named Cathy Becker. ("The Fight")
Behind the scenes
Edit
Appearances
Edit
Toby appears and speaks in every episode with exceptions noted below:
References
Edit
↑ Brian Baumgartner Interview, The A.V. Club