For episode see: Michael Scott Paper Company
"You know, Apple Computers started in a garage, and we are starting in a condo. So we already have a leg up on Apple."
Beginnings
Edit
After Michael quit Dunder Mifflin (New Boss) he pitched his idea of his own paper company to the office employees. The only employee to accept his proposal was Pam. Michael then went on to recruit Vikram, his old friend from his former telemarketer job. Michael then went against Pam's council, and recruited his old favorite: Ryan Howard, from his "$60,000 a year" job at a bowling alley.
The Company
Edit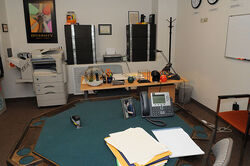 The Michael Scott Paper Company is Michael Scott's attempt at starting his own paper company after quitting the Dunder Mifflin Paper Company. It was originally headquartered in Michael's condo, but the Kellum Court Condo Association (which regulates the condo complex) sent a letter reminding him that is a violation of the neighborhood agreement to operate a business from his condo. Michael attempted to get investments from his own grandmother's investment club but failed. Michael then bought a large closet (yet too small for an office) somewhere within the Scranton Business Park as Dunder Mifflin Scranton to be their office. It is directly below a restroom and a vent, allowing everybody in the office to hear the occupier of the restroom's toilet memoirs. The closet also has no heater. The close quarters spark tensions between the employees, so Michael decides to give each employee their own corner of the office. Michael gets two corners, his desk and his own corner, Ryan gets one, and Pam is stuck with the corner by the copy machine. He then tries to obtain clients and raise awareness of his new "company" through a pancake luncheon with paper-shaped pancakes. He later gets a call and succeeds in getting one client with Pam. Eventually, the company is able to challenge Dunder Mifflin, after drawing away its biggest clients and focusing on their lowest prices. In result, Dunder Mifflin is severely affected by Michael's sales.
Because the company lacks a delivery man and truck, Michael, Pam and Ryan are forced to deliver the loads every morning. Their truck is actually a van belonging to a former Korean church (which Pam explains the sides are labeled: Hallelujah Church of Scranton, which the company was forced to choose over a bus that had an owl residing in it). Despite Michael labeling a small sign that symbolizes the van is the company's, the van occasionally receives visits from Korean Christians, whom Pam must chase away.
Even though the company itself deals with Dunder Mifflin's biggest clients, work ethic in the company still often involves fooling around. According to Pam, Michael, Ryan and herself have become increasingly skilled in catching cheese balls with their mouths.
Current/former employees
Edit
The reason the company was not at all successful was due to selling paper at too low a price, limiting their ability to grow. Alarmed, Michael attempted to raise his prices higher, by asking if the clients can "pay more" for their orders. However Dunder Mifflin did not know this, until one of the clients contacted Dwight. To regain business, Dunder Mifflin attempted to buy out the company. Michael, Pam and Ryan declined the large sum of money offered and chose to have their old jobs again, believing that to be safer. Even though Michael had his old job back, he still owned the room that was formerly their office. He converted it into a disco and coffee shop, dubbing it "Disco Cafe "
Despite Michael's return, the employees responsible for sales were furious, all except for Jim, on Michael's decision to place Ryan and Pam into a sales position and stealing all their clients, as seen in Casual Friday. Eventually, Michael and the sales staff were able to come to an agreement and have Pam hired in Sales, with Ryan put back into his former job.
Ad blocker interference detected!
Wikia is a free-to-use site that makes money from advertising. We have a modified experience for viewers using ad blockers

Wikia is not accessible if you've made further modifications. Remove the custom ad blocker rule(s) and the page will load as expected.