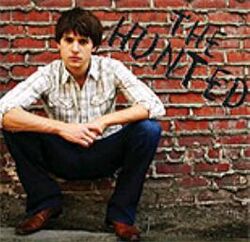 The Hunted is a band with lead singer Hunter, formerly Jan's assistant. One of their songs is titled "That One Night". This song is about how Jan "made him a man." Jim stole the CD from Jan during the episode "Dinner Party".
The first mention of Hunter's band is in the episode The Job. Jan gives Hunter a farewell hug, saying "Good luck with your band," and adding "Don't let them change you."
The words to song "That One Night" were written by Lee Eisenberg and Gene Stupnitsky. The music was written and performed by Todd Fancy of The New Pornographers.[1]
References
Edit
Ad blocker interference detected!
Wikia is a free-to-use site that makes money from advertising. We have a modified experience for viewers using ad blockers

Wikia is not accessible if you've made further modifications. Remove the custom ad blocker rule(s) and the page will load as expected.