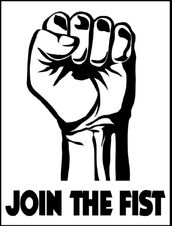 The Fist
is a social club much like the French Revolution, Black Panthers, or Communism. It first rose up when
Dwight
became acting manager. Known members include,
Jim Halpert
, and possibly
Darryl Philbin
.
Dwight
once attempted to join The Fist but was not accepted because of bad timing due to Operation Overthrow. Unbeknownst to Dwight, simply raising a return Fist when challenged with a Fist qualifies one for potential membership (much like a secret handshake).
The Fist is not a rebellion, although constantly mistaken for one.
Ad blocker interference detected!
Wikia is a free-to-use site that makes money from advertising. We have a modified experience for viewers using ad blockers

Wikia is not accessible if you've made further modifications. Remove the custom ad blocker rule(s) and the page will load as expected.