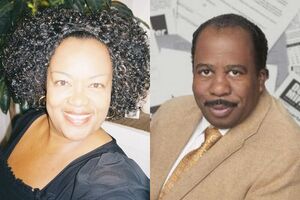 Cynthia was Stanley's nurse, and a relationship budded between them. With Stanley's wife Terri out of town, Stanley and Cynthia went out to a club called Tinks, where they were seen by the summer interns Megan, Eric, and as Michael refers to him, 'Jet Li.' Michael learns that Stanley is having an affair, and accidentally tells Terri over the phone. Terri and Stanley have broken up since.
Cynthia was Stanley's guest at Jim and Pam's wedding. Cynthia and Stanley both danced during the JK Wedding Dance parody.
It is possible the two married without telling anybody. This is able to be theorized by Stanley checking into a room under Mr. and MRS. Hudson in Niagra.
In the deleted scenes of the episode Garden Party, Stanely broke-up with Cynthia at the garden party because he said she wouldn't make a big scene if they were in public. But she did. 
Status: Broken-up
Ad blocker interference detected!
Wikia is a free-to-use site that makes money from advertising. We have a modified experience for viewers using ad blockers

Wikia is not accessible if you've made further modifications. Remove the custom ad blocker rule(s) and the page will load as expected.