Shannon Cochran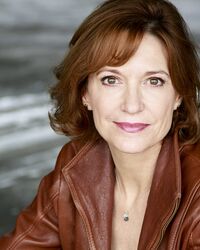 Character
Helene Beesly
Date of birth
August 7, 1958
Place of birth
Greensboro, North Carolina, USA
IMDb profile
Shannon Cochran plays Helene Beesly, Pam Beesly's mother, in Season 2, Episode 2, Sexual Harassment. She visits Pam at The Office prior to going out to dinner with her daughter and Roy. Before leaving, Pam's mother asks her daughter which one in the office was Jim, indicating that Pam has discussed Jim with her mother. Pam calls her mother her "BFF".
Shannon Cochran is replaced as Ms. Beesly by Linda Purl in Season 6.
Ad blocker interference detected!
Wikia is a free-to-use site that makes money from advertising. We have a modified experience for viewers using ad blockers

Wikia is not accessible if you've made further modifications. Remove the custom ad blocker rule(s) and the page will load as expected.