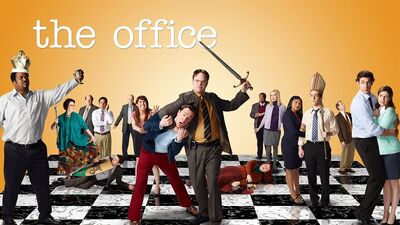 The ninth and final season of The Office premiered on September 20, 2012 on NBC. It ended on May 16. 2013, consisting of 25 episodes.
The previous season was Season 8.
Production
Edit
The office Season 9 is the ninth season of the American adaptation of the office. It premiered from September 20, 2012 to May 2013. It is the final season of the American series, and it consisted of 22 episodes. It was the show's first season without head writer Paul Liberstein, who has been replaced by Dan Sterling. Writer Mindy Kaling also departed from the show. Ed Helms and Catherine Tate have reprised their roles as Regional Manager Andy Bernard, and Special Projects Manager Nellie Bertram. Ed Helms and John Krasinki (Jim) have much smaller roles, due to their obligations in filming other movies. The shows producers have brought back a lot of old plots from the shows earlier days. A new character named Pete, played by Jake Lacy, join the cast, and plays a possible love interest for Erin. On August 3, 2012 it was announced that David Denman who played Roy Anderson would guest star in Episode 2 of the season (see Roy's Wedding). According to the show's producers the viewers will finally learn who has been filming the documentary, why it has gone on for so long and who the Scranton Strangler is.
Episode Title
Season Episode Number
Production Code
Original Airdate
New Guys
1
901
September 20, 2012
Directed and written by Greg Daniels.

In the season opener we meet two new office employees, Clark and Pete. Andy returns from an Outward Bound trip that makes him, to Nellie's detriment, more confident.

Roy's Wedding
2
902
September 27, 2012
Directed by Matt Sohn, written by Allison Silverman.

Several office workers attend Roy's wedding and we find him a changed man. Nellie starts a special project- a charity initiative. Also, Clark, in an attempt to get close to Erin, has her try out for a newscaster position.

Andy's Ancestry
3
903
October 4, 2012
Directed by David Rogers, written by Jonathan Green and Gabe Miller.

In order to get back at Andy, Nellie tells him she has discovered some surprising details about his family. Dwight teaches Erin a new language. Pam gets closer to Nellie while helping her practice for her driver's test.

Work Bus
4
904
October 18, 2012
Directed by Bryan Cranston, written by Brent Forrester.

Dwight is determined to maintain productivity while the office space is uninhabitable. While in such close quarters Jim tries to make up for lying to Pam and Nellie wants Andy to write her a reference letter.

Here Comes Treble
5
905
October 25, 2012
Directed by Claire Scanlon, written by Owen Ellickson.

It's Halloween and we meet the current members of Here Comes Treble as well as one from when Andy was a member.

The Boat
6
906
November 8, 2012
Directed by John Krasinski, written by Dan Sterling.

In the midst of a family crisis we watch Andy take care of business with competance and poise, that is until he has to say goodbye to his family's sailboat. Dwight is "interviewed" by a "local radio host". Also, Oscar deals with the fact that Kevin knows a secret about him.

The Whale
7
907
November 15, 2012
Directed by Rodman Flender, written by Carrie Kemper

The Scranton White Pages, which is now controlled by a woman, is up for grabs. The female office workers attempt to help Dwight with his sales techniques. Jim tries to work in Philly, from Scranton. Oscar and Angela spy on the Senator.

The Target
8
908
November 29, 2012
Directed by Brent Forrester, written by Graham Wagner.

Angela targets Oscar in a revenge plot, Pam hesitantly works on the warehouse mural, and everyone else works on a tower made of complaint cards. Also, Jim asks a favor from Stanley and Phyllis.

Dwight Christmas
9
909
December 6, 2012
Directed by Charles McDougall, written by Robert Padnick.

The Party Planning Committee fails through and fails to plan this year's Christmas party, but Dwight saves the day.

Lice
10
910
January 10, 2013
Directed by Rodman Flender, written by Niki Schwartz-Wright & Halsted Sullivan.

Someone has exposed the office workers to lice. Also, Darryl reconsiders his relationship with Val. In Philly, Jim spends time with a big time athlete celeb.

Suit Warehouse
11
911
January 17, 2013
Directed by Matt Sohn, written by Dan Greany.

With Jim gone Dwight must find a new sales partner so he enlists Clark to help him make a sale at a father-son suit warehouse. Pam tags along with Darryl when he goes to Philly for an interview with Athlead.

Customer Loyalty
12
912
January 24, 2013
Directed by Kelly Cantley, written by Jonathan Green and Gabe Miller

Due to multiple people leaving their jobs at the office Dwight attempts to start a customer loyalty program that basically focuses on one former warehouse worker. Nellie starts a special project with Erin and Pete. Pam attends Cece's ballet recital.

Junior Salesman
13
913
January 31, 2013
Directed by David Rogers, written by Carrie Kemper

Dwight's family and friends interview for a position in the office, but none of them seem to fit the job.

Vandalism
14
914
January 31, 2013
Directed by Lee Kirk, written by Owen Ellickson

When Pam's mural is defaced she turns to Dwight for help to bring the culprit to justice. Brian, from the documentary crew, saves Pam when she is attacked by another employee in the parking lot. Darryl and Jim learn to be roommates in their Philly apartment. Angela and the Senator celebrate Philip's first birthday.

Couples Discount
15
915
February 7, 2013
Directed by Troy Miller, written by Allison Silverman

It's Valentine's Day and the office workers couple up to take advantage of discounts at the local mall. Pam and Jim have plans for a couples lunch. Andy finally returns from his impromtu sailing expedition.

Moving On
16
916
February 14, 2013
Directed by Jon Favreau and Graham Wagner.

After she ends things with him, Andy is not ready to let Erin go. Pam interviews for a job in Philly. Dwight is taking care of his aunt and needs Angela's help. Toby visits the Scranton Strangler.

The Farm
17
917
March 14, 2013
Written and directed by Paul Lieberstein.

If Dwight wants the inheritance from his Aunt Shirley he must convince his siblings to return. Todd Packer visits the office under the pretense of making amends.

Promos
18
918
April 4, 2013
Directed by Jennifer Celotta and written by Tim McAuliffe

The office workers view a promo for the long awaited documentary and learn how they are viewed by others. Down in Philly, Jim and Darryl have a meeting with a potential client.

Stairmageddon
19
919
April 11, 2013
Directed by Matt Sohn, written by Dan Sterling

Because of elevator maintenance the office workers must use the stairs. This is especially upsetting to Stanley who refuses to go on a sales call. According to Dwight it is essential that he goes and, true to form, Dwight goes to extremes to ensure the sale is made. Jim and Pam are nervous about starting couples counseling. Andy is accepted to be represented by a local talent agency.

Paper Airplane
20
920
April 25, 2013
Directed by Jesse Peretz, written by Halsted Sullivan and Warren Lieberstein

A high stakes paper airplane competition brings out the best and worst of the office workers. Pam and Jim follow the advice of their counselor. Elsewhere, Andy begins his acting career.

Livin' the Dream
21
921
May 2, 2013
Directed by Jeffrey Blitz, written by Niki Schwartz-Wright

Determined to persue a career that does not involve office work Andy goes to extremes to ensure there is no way back. Dwight receives his black belt in karate. Jim returns to Scranton and spends time with Pam.

A.A.R.M.
22/23
922/923
May 9, 2013
Directed by David Rogers, written by Brent Forrester.

After becoming manager Dwight takes Jim's advice about needing an Assistant to the Assistant Regional Manager. Also, Andy auditions for a singing competition TV show. Later, the office workers gather at Poor Richards to view the documentary.

Finale
24/25
924/925
May 16, 2013
Directed by Ken Kwapis, written by Greg Daniels

A year after the airing of the documentary we catch up with the workers of Dunder Mifflin as they gather for a wedding and a final round of interviews.
| | | |
| --- | --- | --- |
| Previous season: | Current season: | Next season: |
| Season 8 | Season 9 | End of series |
Despite breaking up from Sabre, many employees still use the metallic Sabre waterbottles
Ad blocker interference detected!
Wikia is a free-to-use site that makes money from advertising. We have a modified experience for viewers using ad blockers

Wikia is not accessible if you've made further modifications. Remove the custom ad blocker rule(s) and the page will load as expected.