Ad blocker interference detected!
Wikia is a free-to-use site that makes money from advertising. We have a modified experience for viewers using ad blockers

Wikia is not accessible if you've made further modifications. Remove the custom ad blocker rule(s) and the page will load as expected.
Release Date: September 4, 2012
Number of Episodes: 24
Number of Discs: 5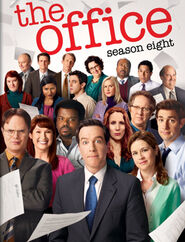 The eighth season of The Office largely centers around the antics of the new Sabre CEO, Robert California. Initially, he appears calm, collected, and calculating. However, as the season progresses, it becomes obvious that his management style is slowly destroying the company. Dwight—along with Jim, Stanley, Ryan, Erin, and Cathy (Lindsay Broad)—travel to Florida to help set up a Sabre Store, where Nellie Bertram (Catherine Tate) is introduced. Eventually, former CFO of Dunder Mifflin David Wallace buys back the company, firing California.
"Fundraiser"

Deleted Scenes
Producer's Cut

"Turf War"
"Free Family Portrait Studio"
Season 8 Blooper Reel
"The Story of Subtle Sexuality" Webisode
"The Girl Next Door" Webisode
XIVI Football Championship promos

Commercial
Dip
Fans
Museums
Post-Game
Bigger Fan