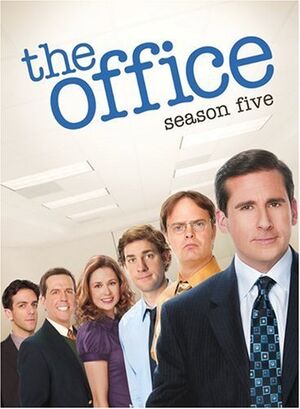 Release Date: September 8, 2009
# of Episodes: 28
Number of Discs: 5
Aspect Ratio: 1.78:1
The Office: Season 5 started on September 25, 2009 with the one-hour long episode, "Weight Loss," and ended on May 14, 2009 with the episode, "Company Picnic." It had 28 episodes, and 2 hour long episodes which included Weight Loss and Stress Relief, which aired after the 2009 Super Bowl. It earned 10 Emmy Nominations, and won 1, for Stress Relief. For the fourth year in a row, it was nominated for The Best Comedy Award. The Season 5 DVD became the number two show in DVD sales, and was the only sitcom in the top 10 of sales.
Disk One
Edit
Run Time: 2 hours 9 minutes
Disk Two
Edit
Run Time: 2 hours 11 minutes
Disk Three
Edit
Run Time: 2 hours 9 minutes
Disk Four
Edit
Run Time: 2 hours 10 minutes
Disk Five
Edit
Run Time: 1 hour 27 minutes
Ad blocker interference detected!
Wikia is a free-to-use site that makes money from advertising. We have a modified experience for viewers using ad blockers

Wikia is not accessible if you've made further modifications. Remove the custom ad blocker rule(s) and the page will load as expected.