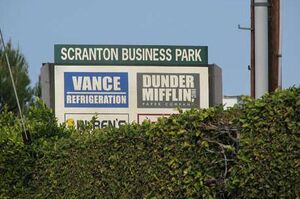 Scranton Business Park is where the Dunder Mifflin Scranton office (the main setting of the show) is located. Its address in the show is 1725 Slough Avenue in Scranton, PA. The place/street itself in Scranton doesn't actually exist, as the address is actually a reference to the British version of The Office, which is set in Slough, England. The real location of the set building is 13927 Saticoy St Panorama City, CA 91402. In the season six finale, Whistleblower, Dwight buys the Business Park.
Chandler Valley Center Studios located in Van Nuys, California is used to film both the inside and outside scenes located at Scranton Business Park.
Personnel
Edit
Billy Merchant - Property Manager
Hank Tate - Security Guard
Businesses
Edit
The Five Families
Edit
"The Five Families" are the five companies that occupy the business park:
A meeting of the leaders of the Five Families was called by Andy and Kevin in the episode Chair Model. Michael did not attend.
Ad blocker interference detected!
Wikia is a free-to-use site that makes money from advertising. We have a modified experience for viewers using ad blockers

Wikia is not accessible if you've made further modifications. Remove the custom ad blocker rule(s) and the page will load as expected.