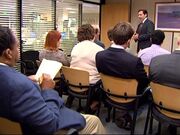 Throughout the series the Conference Room of the Scranton Branch has been used for an array of different purposes..
Avoiding work purposes
Edit
In "Stress Relief", it is used as a yoga room.
In "Lecture Circuit", it is used as Kelly's nap room.
In "The Coup", it is used as a movie theater.
Production purposes
Edit
Throughout the series the conference room is used as an interview room; exceptions do exist however. In "The Deposition", all interviews are done in the Annex, as the conference room is taken up by Jim's ping pong table or if the office is on a trip/outing.
Ad blocker interference detected!
Wikia is a free-to-use site that makes money from advertising. We have a modified experience for viewers using ad blockers

Wikia is not accessible if you've made further modifications. Remove the custom ad blocker rule(s) and the page will load as expected.