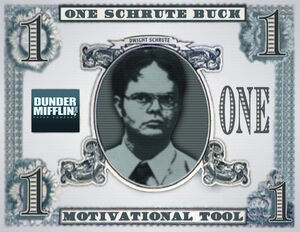 The Schrute Buck is the basic unit of the currency used for motivation at Dunder Mifflin Scranton, created by Dwight Schrute during his temporary term as regional manager.
Exchange Rate
Edit
According to Dwight Schrute, the Schrute Buck is worth 0.0001 US Dollars. 1 000 Schrute Bucks can also be exchanged for an extra five minutes of lunch break.
It can be extrapolated that the exchange rate of US Dollars to Schrute Bucks is approximately 10 000 and the exchange rate of Schrute Bucks to Extra Minutes at Lunch is approximately 0.005. The exchange rate of US Dollars to Extra Minutes at Lunch is approximately 50.
There is no currency exchange rate between Stanley Nickels and Schrute Bucks, and reputable sources claim that the ratio of Stanley Nickels to Schrute Bucks is approximately equal to "the ratio of unicorns to leprechauns" as to say that neither Schrute Bucks or Stanley Nickels are real.
In 2007, Creed Bratton, a well-known criminal and money counterfeiter, attempted to copy Schrute Bucks and exchange them for $200(USD), only for the money to be exposed as counterfeit by Schrute, whose years of experience as a volunteer sheriff's deputy allowed him to prevent what could have been the greatest financial crisis ever to affect Schrute Bucks. After being exposed, Bratton threatened to float the currency and make it worthless.
It is not known whether Bratton succeeded in rendering the currency worthless and reports on the currency's exchange rate are not currently available.
Schrute Bucks can now be purchased as a part of The Office Kit, which is available here, but it is not known whether they can currently be exchanged for US Dollars or Extra Minutes at Lunch, due to Bratton's actions.