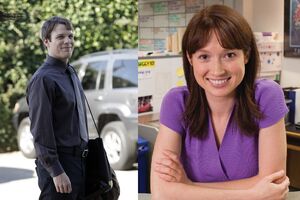 Almost a second Jim-and-Pam relationship,
Pete
, who is a customer service rep, is interested in
Erin
, the receptionist, whilst she is dating
Andy
. However, the relationship progresses much faster and the two become a couple shortly after Pete tells Erin he is interested in her and after Andy abandoned Erin to go sailing with his younger brother. Essentially a newer, slightly altered Jim and Pam relationship, turning Andy into a protegee of Roy. 
Status: Together
Ad blocker interference detected!
Wikia is a free-to-use site that makes money from advertising. We have a modified experience for viewers using ad blockers

Wikia is not accessible if you've made further modifications. Remove the custom ad blocker rule(s) and the page will load as expected.