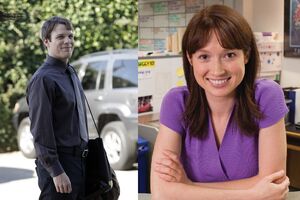 Almost a second Jim-and-Pam relationship,
Pete
, who is a customer service rep, is interested in
Erin
, the receptionist, whilst she is dating
Andy
. However, the relationship progresses much faster and the two become a couple shortly after Pete tells Erin he is interested in her and after Andy abandoned Erin to go sailing with his younger brother. Essentially a newer, slightly altered Jim and Pam relationship, turning Andy into a reflection of Roy. 
Status: Together