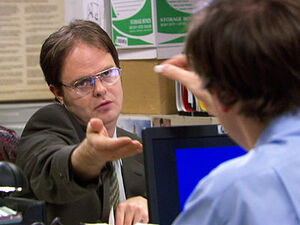 Jim feigns exasperation with his PC and says he must "restart... again." He then offers an Altoid to an enthusiastic Dwight. In a re-creation of Pavlov's experiment, Jim has spent several weeks conditioning Dwight to desire a mint when he hears the default Windows "unlock workstation" sound. When Jim restarts the final time, Dwight places his hand out ready to accept a mint. Jim asks dwight what he is doing, which he responds "I don't know" and states his mouth tastes so bad all of a sudden.
Five separate occurrences are shown of Jim preparing his experiment. Additionally, there is one scene that shows the results of Jim's experiment.
Episode Appeared In
Edit
Ad blocker interference detected!
Wikia is a free-to-use site that makes money from advertising. We have a modified experience for viewers using ad blockers

Wikia is not accessible if you've made further modifications. Remove the custom ad blocker rule(s) and the page will load as expected.