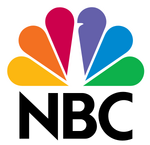 The National Broadcasting Company (NBC) is an American television network headquartered in the GE Building in New York City's Rockefeller Center. It is sometimes referred to as the Peacock Network due to its stylized peacock logo.
Formed in 1926 by the Radio Corporation of America (RCA), in 1986 control of NBC passed to General Electric (GE), with GE's $6.4 billion purchase of RCA. After the acquisition, the chief executive of NBC was Bob Wright, until he retired, giving his job to Jeff Zucker. The network is currently part of the media company NBC Universal, a unit of General Electric and Vivendi.
NBC is available in an estimated 112 million households, or 98.6% of the country. NBC has 10 owned-and-operated stations and nearly 200 affiliates in the United States and its territories.
Currently broadcast by NBC
Edit
Dateline NBC (1992–present)
Meet the Press (1947–present)
NBC Nightly News (1970–present)
Today (1952–present)
Chuck (2007–present)
Law & Order: Los Angeles (2010–present)
Law & Order: Special Victims Unit (1999–present)
Parenthood (2009–present)
The Event (2010–present)
Harry's Law (2011-present)
30 Rock (2006–present)
Community (2009–present)
The Office (2005–present)
Outsourced (2010–present)
Parks and Recreation (2009–present)
The Paul Reiser Show (2011-present)
America's Got Talent (2006–present)
The Apprentice (2004–present)
The Biggest Loser (2004–present)
The Marriage Ref (2010–present)
The Voice (Premieres April 26, 2011)
The Sing Off (2009-present)
Daytime serial
Edit
Days of our Lives (1965–present)
Talk show and variety
Edit
Saturday Night Live (1975–present)
Last Call with Carson Daly]] (2002–present)
Late Night with Jimmy Fallon (2009–present)
The Tonight Show with Jay Leno (1992–2009; 2010–present)
Documentary
Edit
Who Do You Think You Are? (2010–present)
Game show
Edit
Poker After Dark (2007–present)
Minute to Win It (2010–present)
Ad blocker interference detected!
Wikia is a free-to-use site that makes money from advertising. We have a modified experience for viewers using ad blockers

Wikia is not accessible if you've made further modifications. Remove the custom ad blocker rule(s) and the page will load as expected.