Ad blocker interference detected!
Wikia is a free-to-use site that makes money from advertising. We have a modified experience for viewers using ad blockers

Wikia is not accessible if you've made further modifications. Remove the custom ad blocker rule(s) and the page will load as expected.
Belles, Bourbon, and Bullets
is a fictional game featured on
The Office
's
Season 6
episode, "
Murder
," and in it
Michael Scott
used it as a game to get bankruptcy off people's minds. A bit similar to Clue, you have to find out who commited a murder in Savannah, GeorgiaIn this case, the murderer was Beatrix Bourbon, played by Phyllis.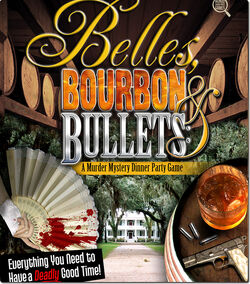 Voodoo Mama JuuJuu (Angela)
Beatrix Bourbon (Phyllis)
Naughty Nellie Nutmeg (Erin)
Nathaniel Nutmeg (Andy)
Caleb Crawdad (Michael)
The Butler (Dwight)
Deb U.Taunt (Pam)
Game Description
Edit
Belles, Bourbon, and Bullets is a murder mystery dinner party game in which the players have been sent to figure out who murdered Bill Bourbon. Each person plays a character from a character card, to tell them a character background. For example, Angela got a character card which said she was Voodoo Mama JuuJuu, witch doctor of the Savannah Swamp. The characters have to go around and find clues from the other characters, like how Phyllis's character found out that Pam's character, Deborah U. Taunt, asked Dwight's character, the butler, where the pistol was kept. You find clues about the murder until you have enough clues to figure out who the murderer is.
The Office Plays
Edit
It begins with everyone in the office gets a character to start off with. The game starts off with pam saying her character, Deb U Taunt, was Bill Bourbon's niece, and she would never hurt him. Phyllis's character says that she overheard Deb talking to the butler about where the pistol was kept. Dwight then goes on a rant about the social classes. Andy says that he has something to say to Beatrix Bourbon, but it doesnt show what he says, because it cuts to a talking head of Michael Scott, saying that the game is a hit. The cameras go back to the conference room, where everyone is talking to one another, and Kevin is standing by himself, saying "Y'all". Creed comes in late to the office and not knowing that Michael was talking about a game, he runs out of the office and into his car and drives away, thinking he was being questioned of an actual murder. Dwight and Angela are in character talking about the murder, and Dwight screams "I know you did it". In a talking head, he says that he knows Angela didn't do it, because everyone expects the most suspicious person to be the murderer. He then says that is is not the least suspicious character. Dwight says that the murderer is the most medium suspicious which is Phyllis, or Beatrix Bourbon. The camera goes back, and Kevin is talking to Erin, in character, about making out by the horses, and then Meredith comes in saying "How about a threesome?" which Erin's character agrees to. Oscar comes in with a southern accent saying that they had to stop all payments, but he couldn't get the words out, so he gives up and says it in his normal voice. Everyone leaves the conference room, but Michael is still trying to play the game, showing signs of denial. He skips to a big clue when everyone is walking out the door, saying that Beatrix Bourbon is the killer, much to Phyllis's suprise. Later on, after Jim gets off a phone call with David Wallace, he says that there has been another murder. Everyone goes back into the conference room, except for Stanley, and they continue the game. At 6:00, it shows Andy, Dwight, Pam, and Michael in a circle in the conference room, pointing finger guns at each other. Jim gets Pam to leave, leaving Andy, Dwight and Michael in the room. They are in a standoff until they all start to shoot their imaginary guns, until they are all on the floor, pretending to be dead.