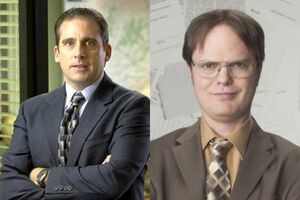 Dwight refers to Michael as "the one person I have been hired to protect." Because of his authoritative personality, Dwight worships his boss. He sees Michael as a means to an end, and thus bends over backward trying to please him. Dwight is always the first to jump in on Michael's hare-brained schemes but to the contrary of his ideas isn't really the number one in Michael's eyes (James and Ryan Howard seem to come before him).
As well as shown in an earlier episode in the series (The Coup) Dwight finds it hard to betray Michael. This is shown aas Dwight is not sure wether to ask to become the Regional Manager. In the end he apologizes to Micheal and begs for forgiveness.
Michael finds Dwight irritating, but enjoys the attention and devotion Dwight lavishes upon him.
In the episode Dunder Mifflin Infinity, Michael tells Dwight to hang up the phone while Dwight is calling a cab, to pick them up at Lake Scranton, the lake Michael drove them into. Dwight does so immediately and without question.
Ad blocker interference detected!
Wikia is a free-to-use site that makes money from advertising. We have a modified experience for viewers using ad blockers

Wikia is not accessible if you've made further modifications. Remove the custom ad blocker rule(s) and the page will load as expected.