Main characters
Edit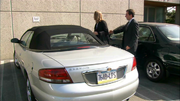 Michael drives a silver 2004 Chrysler Sebring convertible. It is first seen in the episode Health Care and appears in many subsequent episodes, most notably Office Olympics and The Client.
In The Coup, Michael offers to give the car to Dwight along with his Job as regional manager and is greatly offended when Dwight turns it down
In Dunder Mifflin Infinity, Michael drives a rented Ford Taurus while his Sebring is in the shop.
In Money, Michael has sold his Sebring and used the money to help Jan buy a Porsche Boxster. He takes the bus to work
In Michael Scott Paper Company, Michael requests a new Sebring as one of his conditions for returning to Dunder Mifflin and is angry when Charles Miner tells him that Chrysler no longer makes the car.
In Branch Wars, Michael has a red PT Cruiser convertible. It is not explained how he paid for it. Jan and Michael drive a red PT Cruiser to New York for The Deposition.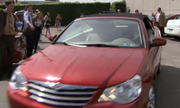 In Company Picnic, Michael is seen driving a late model (2010 judging by the non-slotted OEM Aluminum Rims) Sebring.
In Gossip, Stanley Hudson can be seen destroying Michael's Sebring with a golf club after Michael accidentally reveals to Teri Hudson that Stanley was having an affair with another woman.
In the Pilot episode, Dwight mentions that he drives a 1978 Datsun 280Z which he bought for $1,200 and restored, bringing its value to $3,000. In Grief Counseling  we see a bronze Datsun 280ZX in the parking lot as Pam and Roy talk about Pam's new Yaris which must be Dwight's.
In The Fire, Dwight listens to music in his maroon 1987 Pontiac Trans Am. The car makes appearances in several subsequent episodes, most notably in The Injury and Initiation.
In Did I Stutter?, Dwight buys Andy's Xterra, and then almost immediately sells it for more than he paid for it.
In Finale Dwight is seen to be driving a 2012 Header Orange Dodge Challenger, which he bought sometime between the documentary airing and sometime before Finale.
he aslo has a M151 1/4-ton 4x4 utility truck
In the first and second seasons, Jim drove a maroon early 2000s Toyota Corolla, first seen in The Alliance. It can also be seen at the end of the episodes Hot Girl and The Carpet. In real life, the car belongs to Phyllis Smith, the actress who plays Phyllis Lapin.
In the third season, Jim drives a silver Saab 9-2x, first seen in the episode Traveling Salesmen.
In the fifth season, Jim drives a grey Saab 9-3, first seen in the episode "Weight Loss".

Since the sixth season, Jim and Pam have driven a Subaru Outback.
In the first season, Pam does not own a car of her own.
In the third season, Pam drives a blue-gray Toyota Yaris, first seen in the episode Grief Counseling.
Starting in Season 6, Jim and Pam both drive a Subaru Outback.
Ryan's car appears in the episode The Fire. It is a deep blue Honda Civic.
In Business School, Ryan's car is a blue 4 door Chevrolet Cobalt (LT or LS), as indicated by the dashboard, gauge cluster, and exterior.
In Did I Stutter?, Ryan arrives in Scranton in an automatic transmission silver convertible BMW Z4 roadster.
Ryan also mentions that he drives his mom's Nissan Z.
Nissan 300zx NA seen in season 3.
Accounting
Edit
Angela drives a gray Ford Focus. It first appeared in the episode The Dundies. Angela is later seen driving a tan Saturn L series. It appears as she honks at Kevin on the way to Pam and Jim's wedding in Niagara. It is also seen in Andy's Play after she punches Dwights card in the parking lot.
Angela is seen in a blue Cadillac SRX Crossover which was presumably bought by the senator sometime before or during Season 8 as it is expensive. It is also seen in season 9, proving she got to keep it in the divorce.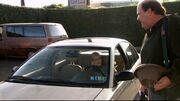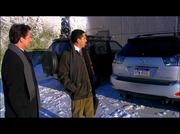 Oscar drives a gold Saturn ION, first seen in the episode The Secret.
He later gets a Corporate-leased Lexus RX 400h after Michael outs him. It is seen in the Producer's Cut of The Return.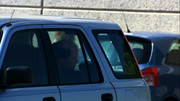 In the episode Fun Run, Kevin hides in the back of his car, a first-generation Honda CR-V. 
He tests to see how long it would take to pass out in Weight Loss in the drivers seat of his Honda CR-V.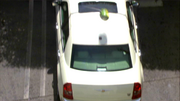 The interior of Stanley's car is seen in the episode Traveling Salesmen which is a Lincoln LS. It is identified in the episode Safety Training as a white Chrysler 300C.
In the eighth season, he is seen setting his items on a new silver Chrysler 300 in the episode Pool Party.
In the eighth season, he is seen driving a red Chevrolet Camaro SS convertible in the episode Tallahassee. We presume that it was a rental, as it is not seen in any further episodes after the group returns from Florida.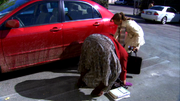 Phyllis drives a maroon early 2000s Toyota Corolla, first seen in the episode Traveling Salesmen, the car previously was used as Jim's car. The car is owned by actress Phyllis Smith in real life.
In Crime Aid, Dwight ushers Phylllis outside, claiming someone let the air out of her tires. Phyllis goes with Dwight to inspect her car, which is a maroon 2008-2012 Chevrolet Malibu.
Andy drives a dark-colored 2001 Nissan Xterra SE, first seen in the episode The Merger. It makes a significant appearance in the Producer's Cut of the episode The Return.
When he returns from anger management training in Safety Training, Andy replaced his Xterra with a 2nd-Gen Toyota Prius. From 2009 onwards he is seen with a silver 3rd Gen Toyota Prius.
Andy sells his Xterra to Dwight in Did I Stutter?, who in turn sells it on eBay for a profit. In real life, the car belongs to a hair stylist on the show, and after the episode aired, the car (with souvenirs from the show) was sold on eBay. The eBay listing describes the car as tan, but on screen the color comes out much darker.
Karen drives a silver Isuzu Rodeo, first seen in the episode Diwali.
Todd Packer
Edit
Todd Packer drives a red Chevrolet Corvette, first seen in the episode Sexual Harassment. His license plate is WL HUNG (meaning well hung, though it was misinterpreted as American Idol contestant William Hung).
Other Office Workers
Edit
Meredith drives a tan Ford Aerostar minivan, first seen in the episode The Injury. It makes a significant appearance in the episode Women's Appreciation.
Kelly's car is a 2nd-generation facelifted Hyundai Accent.
Creed drives an early 1980s Lincoln Town Car, as seen in Murder.
In Season 7 Ep 25, Search Committee, Part 1 - Creed enters the parking lot in a Porsche 997.2 Cab - the PA licence plates read "NEW MGR". Then in some later seasons and episodes he gets a Porsche convertible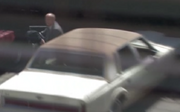 Warehouse
Edit
In Season One, Roy owns a Supercab Ranger XLT.
First seen in The Dundies Roy now owns a Singlecab Dodge Ram.
Darryl drives a dark blue-grey 2006 Chevy Silverado, first seen in The Negotiation.
In Business Trip, Darryl is seen walking out to his grey 2008 Chevrolet Silverado Crew Cab.
Corporate
Edit
David Wallace
Edit
BMW 7-series
In the final season, David Wallace is seen driving a newly purchased Lexus GS 350.
Jan drives a silver Volvo S80, first seen in the episode Performance Review. It makes a significant appearance in Cocktails.
In Money, Jan drives a Porsche Boxster, having sold her and Michael's cars. In real life, the car belongs to a member of the transportation crew.[1]
In Baby Shower, Jan can be seen pulling away in a beige first generation Toyota Highlander.
Toby drives a silver-blue Saab 9-2x wagon, first seen in the episode Take Your Daughter to Work Day.
In the episode "garden party" Toby drives a Subaru Impreza, which is seen when Mose parks his car.
Non-Dunder Mifflin employees
Edit
Katy drives a Volkswagen Jetta, seen in The Fire.
Bob Vance
Edit
Bob Vance-Vance refrigeration drives a GMC Yukon, mentioned in Diwali.
Robert California
Edit
Robert is seen driving a grey Chevrolet Corvette in The List. Robert's wife drives a Mercedes SL350 (2003), as seen in episode Mrs. California.
Walter Bernard Sr./Ellen Dorset Bernard
Edit
Andy's parents are seen briefly getting into a Mercedes-Benz CLS in Garden Party.
References
Edit
Ad blocker interference detected!
Wikia is a free-to-use site that makes money from advertising. We have a modified experience for viewers using ad blockers

Wikia is not accessible if you've made further modifications. Remove the custom ad blocker rule(s) and the page will load as expected.