Many characters on The Office have nicknames. Below is the list of nicknames that are used repeatedly throughout the series. 
Boner Champ by Here Comes Treble
Nard Dog by Andy (himself)
Nard Man by Luke ("Nepotism")
Baby Wawa by everyone except his former co-workers after his audition video went viral ("Finale")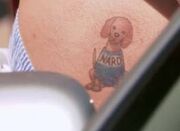 Monkey by Dwight
Pumpkin by Creed
Booster Seat by Michael
Dwight Jr. by Andy
Zero Clark Thirty by Andy
Big Tuna (and many variations) as well as Jim Bag Bones by Andy
Jimothy by Michael
Jimbo by Michael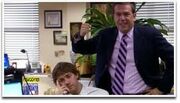 Beesly by Jimm
Pammy by Roy
Temp by Michael
Fire Guy by Kevin
Ad blocker interference detected!
Wikia is a free-to-use site that makes money from advertising. We have a modified experience for viewers using ad blockers

Wikia is not accessible if you've made further modifications. Remove the custom ad blocker rule(s) and the page will load as expected.