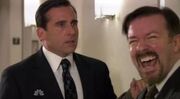 The Office has featured a number of talented actors know for other projects. Below is a list of actors that have had a sinlge appearance or only a few appearances throughout the series.  Season 1 saw Amy Adams' first appearance as Katy in, "Hot Girl". 
In Business Trip Wendi McLendon-Covey guest stars as Marie the Concierge
In Sabre Christian Slater guest stars as himself.
The Office "Mafia" Mike Starr guest stars as Insurance Salesman ( Mr Grotti )
The Delivery pt 2 Mellisa Rauch ( New mom sharing the room with Pam )
Ad blocker interference detected!
Wikia is a free-to-use site that makes money from advertising. We have a modified experience for viewers using ad blockers

Wikia is not accessible if you've made further modifications. Remove the custom ad blocker rule(s) and the page will load as expected.