Lee Kirk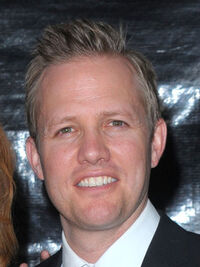 Character
Clark the Lactation Specialist
Place of birth
Texas, United States
IMDb profile
Lee Kirk is an american screenwriter, director and actor. He is best known for his works in The Man Who Invented the Moon (2003), Pants on Fire (2008) and The Giant Mechanical Man (2012). In the latter he directed his wife and The Office star Jenna Fischer, whom he married in July 2010.
In The Office, Kirk made a cameo appearance in the season 6 episode The Delivery as Clark the Lactation Specialist. Kirk also directed the season 9 episode Vandalism.
Ad blocker interference detected!
Wikia is a free-to-use site that makes money from advertising. We have a modified experience for viewers using ad blockers

Wikia is not accessible if you've made further modifications. Remove the custom ad blocker rule(s) and the page will load as expected.