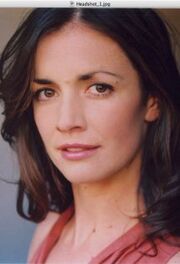 Jessica is Andy's girlfriend from season 8.  She is very beautiful and seemingly rich. She enjoys running, as she is the assistant Cross Country coach for Bryn Mawr. Andy said that his parents loved her and gave him the old family ring, minus the center stone, to propose to her with.  She is pictured in Christmas Wishes, Special Project, Pool Party, and Welcome Party where he breaks up with her at her friends bachelorette party. She is portrayed by Eleanor Seigler.
Ad blocker interference detected!
Wikia is a free-to-use site that makes money from advertising. We have a modified experience for viewers using ad blockers

Wikia is not accessible if you've made further modifications. Remove the custom ad blocker rule(s) and the page will load as expected.