'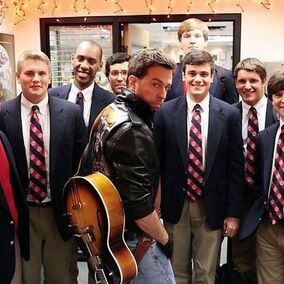 '
Here Comes Treble
is the name of
Andy
's a cappella group. They were first mentioned in Andy's appearance in
Gay Witch Hunt
.
Andy's a cappella group has been a recurring motif throughout the show since his debut.
In the episode Launch Party, Andy sin
gs "Take a Chance on Me" by ABBA with his a cappella group backing him up on speakerphone. Actor John Michael Higgins is one of the other voices.
The members of Here Comes Treble, class of '96:[1]
Carl 1 and Carl 2 (not on speaking terms after they ended their civil union)
Jingle Jangle
Sandwich (scheduled to undergo gastric bypass surgery)
Boner Champ (aka Andy- got this nickname for humping a snowman)
Doobie (now a school bus driver)
Pubey Lewis & the News
Sparerib
Hopscotch (his mom won't let him out on weekends)
Lunchbox
References
Edit
Ad blocker interference detected!
Wikia is a free-to-use site that makes money from advertising. We have a modified experience for viewers using ad blockers

Wikia is not accessible if you've made further modifications. Remove the custom ad blocker rule(s) and the page will load as expected.