Ad blocker interference detected!
Wikia is a free-to-use site that makes money from advertising. We have a modified experience for viewers using ad blockers

Wikia is not accessible if you've made further modifications. Remove the custom ad blocker rule(s) and the page will load as expected.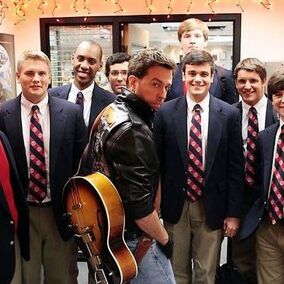 Here Comes Treble
is the name of
Andy
's a cappella group. They were first mentioned in Andy's appearance in
Gay Witch Hunt
.
Andy's a cappella group has been a recurring motif throughout the show since his debut.
In the episode Launch Party, Andy sings "Take a Chance on Me" by ABBA with his a cappella group backing him up on speakerphone. Actor John Michael Higgins is one of the other voices.
The members of Here Comes Treble, class of '96:[1]
Carl 1 and Carl 2 (not on speaking terms after they ended their civil union)
Jingle Jangle
Sandwich (scheduled to undergo gastric bypass surgery)
Boner Champ (aka Andy- got this nickname for humping a snowman)
Doobie (now a school bus driver)
Pubey Lewis & the News
Sparerib
Hopscotch (his mom won't let him out on weekends)
Lunchbox
References
Edit