Finger Lakes Guy was an applicant for the Regional Manager position at Dunder Mifflin-Sabre in Scranton. He was played by Jim Carrey.
He was interviewed by Jim Halpert, Toby Flenderson and Gabe Lewis. Jim tells Jo that he was a good candidate and joked about how he kept telling them he had to get back to the Finger Lakes.
He later tells the camera crew that he left his family to drive down to Scranton for the interview, but having to return before they worry as "people disappear in the Finger Lakes." (
Search Committee
.)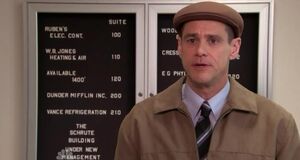 Ad blocker interference detected!
Wikia is a free-to-use site that makes money from advertising. We have a modified experience for viewers using ad blockers

Wikia is not accessible if you've made further modifications. Remove the custom ad blocker rule(s) and the page will load as expected.