Finger Lakes Guy
Comments

0
1,054pages on
this wiki
Finger Lakes Guy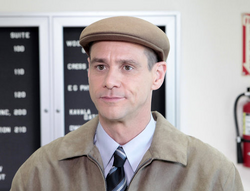 Last Appearance
{{{last appearance}}}
Finger Lakes Guy was an applicant for the Regional Manager job for Dunder Mifflin-Sabre in Scranton. He was played by Jim Carrey.
He applied for the job and was interviewd by Jim Halpert, Toby Flenderson and Gabe Lewis. Jim later tells Jo that he was a good candidate and joked about he kept telling them he had to get back to the finger lakes.
He later tells the cameras that he abandon his family up there to drive down to Scranton and told them he had to return to them now. He ominously then told the cameras that "people dissapear up in the finger lakes"
Search Committee
.