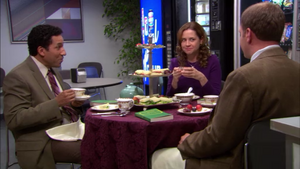 The Finer Things Club is a club started by Pam, Toby, and Oscar. The club later includes Jim, but denies membership to Andy.
The other members didn't appreciate Jim's membership; Oscar thought that he was prone to make unnecessary jokes during conversation, and Toby had an apparent crush on Pam, thus liked being with her without Jim around.
After the club reads Angela's Ashes, their discussion on the book reveals that Jim only pretended to read it, as Oscar and Toby interrogate him on what he liked about the book.
Oscar states that aside from being attracted to men, The Finer Things Club is the gayest thing about him.