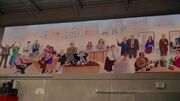 The mural was painted by Pam Halpert and is revealed in the Finale episode. It features the characters listed below. It also features buildings and sights from Scranton, Pa where the show takes place.
Michael Scott
Edit
center, reclining behind a desk
Dwight Shrute
Edit
standing imposingly behind Michael
Angela Martin
Edit
seated to the left of Dwight
Ryan Howard
Edit
sitting on a desk to the left of Angela, being hugged from behind by Kelly
Kelly Kapor
Edit
Oscar Martinez
Edit
seated leisurely to the left of Ryan
standing with arms raised behind Oscar
standing with arms raised to the left of Meredith
standing behind Oscar to the left of Pete
standing behind Oscar to the right of Clark
Erin Hannon
Edit
leaning her arms on the reception desk behind Michael
Pam Halpert
Edit
dressed in her "painting clothes" standing behind the reception desk to the right of Erin, behind Michael
Jim Halpert
Edit
waving and seated at a desk to the right of Michael
Andy Bernard
Edit
standing and waving with his arm around Kevin behind Jim
Kevin Malone
Edit
standing with his arm around Andy behind Jim
Stanley Hudson
Edit
doing a crossword puzzle seated at a desk to the right of Jim
Nellie Bertram
Edit
leaning in the doorway behind Stanely
Toby Flenderson
Edit
standing and holding a cup to the right of Nellie
Darryl Philbin
Edit
seated at a desk in the separate office to the right of Toby
Phyllis Vance
Edit
knitting and seated at a desk across from Stanely
Ad blocker interference detected!
Wikia is a free-to-use site that makes money from advertising. We have a modified experience for viewers using ad blockers

Wikia is not accessible if you've made further modifications. Remove the custom ad blocker rule(s) and the page will load as expected.