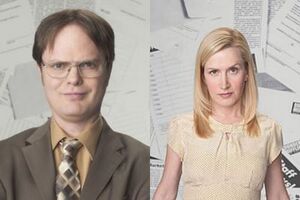 Angela and Dwight are a main couple of the Office. They have an off-and-on relationship.
Dwight and Angela carried on a secret office romance for a long time. The two broke up after Dwight killed Angela's cat Sprinkles in Fun Run. They rekindled a racy affair after Angela became engaged to fellow co-worker, Andy. Every time Andy brought up wedding plan information she would secretly page Dwight and meet him in the warehouse for an afternoon delight. Dwight enlisted Phyllis' help which led to an ultimatum, and even though the answer was no, he still pursued her. Dwight called it off eventually because Angela was stringing both men along.
In season six, Dwight and Angela decide to have a baby together, and sign a baby contract. Angela later breaks the contract and begins to date another man, oblivious to the fact that he's gay.
Angela later has a baby, and Dwight is convinced that it is his, he gets the DNA tested in the episode Free Family Portrait Studio, proving that the baby is in fact the senator's.
It is later revealed in the episode A.A.R.M. that Dwight is in fact the father, and he realizes that he loves Angela and initially proposes to her concerning [[Phillip Lipton]], but then realizes his love for her and proposes at the end of the episode while doing some horrible driving.
The series finale features Dwight and Angela's wedding, and they successfully wed with the rest of their coworkers in attendance.
Status: Married