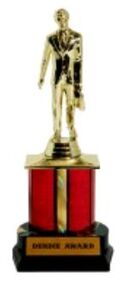 A Dundie is an award bestowed annually by Dunder Mifflin Scranton regional manager Michael Scott. In order to maintain morale, everybody gets a Dundie.
Dundie winners
Edit
Winners of 2011/14th Dundies Awards (Michael's Last Dundies)
Winners of 2005/8th Dundies Awards (The Dundies)

Phyllis: Busiest Beaver Award (misspelled as Bushiest Beaver)
Ryan: Hottest in the Office
Angela: Tight-Ass Award (refused)
Kelly: Spicy Curry Award (a bowler)
Kevin: Don't Go in There After Me (squatting weightlifter)
Stanley: Fine Work Award
Pam: Whitest Sneakers Award
Meredith: Grace Under Fire Award
Jim: Jim Halpert Award (mentioned in DVD commentary)

Winners of previous Dundies awards (The Dundies)

Stanley: Great Work Award (2004, mentioned in Stanley's acceptance speech)
Pam: Longest Engagement Award (undated archival footage)
Oscar: Show Me the Money Award (undated archival footage)

Winners of Previous Dundies awards (Michael's Last Dundies)
Ryan Howard: Hottest in The Office 2005, 2006, 2007, 2008, 2009, and 2010 
Stanley mentions that he throws out his Dundies.
A Dundie was included in a promotional edition of the Season 3 DVD.
Appearances
Edit
Mentioned
Edit
* Deleted scene