Deangelo Vickers
Comments

20
1,089pages on
this wiki
Deangelo Jeremitrius Vickers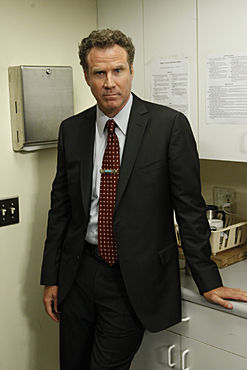 Deangelo Jeremitrius Vickers, played by Will Ferrell, was Michael Scott's temporary replacement as Branch Manager at Dunder Mifflin Scranton after Michael moved to Colorado with his fiancee Holly Flax.
Biography
Edit
Deangelo Jeremitrius Vickers appeared in a story arc that lasted four episodes. His first appearance was in "Training Day", where he was introduced to the other workers. Deangelo Vickers was to be the Regional Manager of the Dunder Mifflin Scranton Branch in the departure of manager Michael Scott. Deangelo has an allergic reaction from peanuts. Deangelo was a childish, south-western lovin', stage frightened regional manager. Deangelo conquered obesity. In Michael's Last Dundies, Deangelo and Michael hosted the Dundies at Louie Volpes. Deangelo's mother divorced his father and had to go to court and chose between them. Deangelo sang Michael's Goodbye Song. Deangelo became the Regional Manager of Dunder Mifflin Scranton in "Goodbye, Michael" when Michael Scott retired as Regional Manager to live with his fiance, Holly Flax. At the party to celebrate Michael's absence and Deangelo as manager, he attacks the cake and the office realizes that he is going to be hard to work with for years to come.
Deangelo Vickers is officially Regional Manager in "The Inner Circle". He considers himself to be a professional juggler, even though he juggles invisible juggling balls. He plays the song Bring Me To Life by Evanescence through cds during his juggling routine. The entire office believe Deangelo to be extremely childish and incapable to be manager. The only employees that are impressed with his "juggling skills" are Kevin Malone and Creed Bratton.
As Regional Manager he sets up an Inner Circle of his favorite employees which includes Kevin Malone, Darryl Philbin, Gabe Lewis, Jim Halpert(temporary), Andy Bernard(temporary). In The Inner Circle, Deangelo and his favorites play Nerf basketball. Later, Jim challenged Deangelo to dunk on a basket 15 feet away. He accepted, but after dunking, the hoop collapses on him, and he is sent to the hospital. He later reappeared in the office dressed in a hospital smock while speaking gibberish. He was sent back to the hospital and is never seen again.
In the producers cut of "Search Committee" Jo lists all the former managers, mentioning Deangelo as "The 2nd idiot dunks himself to death!"
In "Lotto", Deangelo was mentioned by Darryl saying that he's dead, but Andy corrects him saying he's not dead, just his brain. But since he's brain dead, they must disconnect him from life support and let him die.
Personality
Edit
Deangelo is widely regarded by the Dunder-Mifflin crew as a brash, obstinate and opinionated boss who is very sexist. He is welcomed at first by employees trying to win his favor, but then loses more and more employee respect. His superiors think he is an incompetent as well.
Deangelo has 4 children (1 is a son) and a cousin. His cousin cracked a formula for a popular soda so Deangelo couldn't buy it. Deangelo still drinks his cousin's. According to a deleted scene in The Inner Circle, Deangelo has a brother.