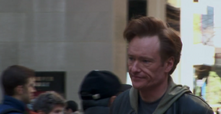 Conan O'Brien is an American talk show personality whom portrays himself in The Office episode Valentine's Day.
Valentine's Day
Edit
O'Brien makes a cameo appearance when Michael Scott is visiting the Rockefeller Center in New York City. As O'Brien walks by the camera, Michael does not notice him as he is busy mistaking a random woman for American actor Tina Fey. In the next scene, Michael is told that Conan O'Brien had just walked by, leading to his disappointment that he had wasted his time questioning the random woman he mistook for Tina Fey.
Ad blocker interference detected!
Wikia is a free-to-use site that makes money from advertising. We have a modified experience for viewers using ad blockers

Wikia is not accessible if you've made further modifications. Remove the custom ad blocker rule(s) and the page will load as expected.