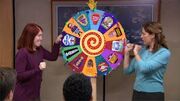 In the Season 9 episode Roy's Wedding Pam creates a chore wheel because, as she explains, the cleaning crew is off for a month and Dwight won't pay for a substitute. The first wheel contains chores only but because complaints from the office workers and after a series of trial and error Pam creates a much more fun alternative. Listed below are the spaces on the different wheels.
Original Chore Wheel
Edit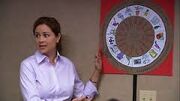 The orignal wheel Pam created was not meant to be spun. As she explains the inner circle, with the names, was to be moved each day so that each office worker gets a new chore everyday. 
Mug Duty
Vaccum
Clean Kitchenette
Sweep Entrance
Empty Trash
Dust Office Machines
Wash Windows
Replace Lights
Water Plants
Clean Restrooms
Clean Breakroom
Final Wheel
Edit
Go Home Now
Creed's Choice
Bankrupt
Spin Again
Stanley Gets Your Lunch
Tiny Wheel
Ten Bucks
Punch in the Gut
Manager for an Hour
Candy Bar
No Internet
Warehouse Vacation
Tiny Wheel
Edit
Trivia/Amusing Details
Edit
Ad blocker interference detected!
Wikia is a free-to-use site that makes money from advertising. We have a modified experience for viewers using ad blockers

Wikia is not accessible if you've made further modifications. Remove the custom ad blocker rule(s) and the page will load as expected.