For the Season 5 episode of the same name, see Cafe Disco.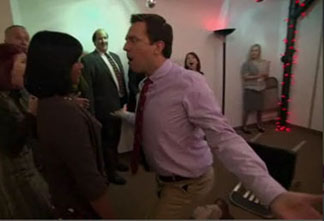 The Café Disco is a public dance club located on the ground floor of Scranton Business Park located in the former office of the Michael Scott Paper Company, which was a former industrial shower. The disco was founded by Michael Scott and closed when Michael's lease expired. It was later left empty and used to film the danger of Sabre's printers by Andy and Darryl and was later convereted into a day care center by Dwight Schrute in order to make money off Jim and Pam as he knew they were looking for a day care center closer to work.

Attendees
Edit
All current Dunder Mifflin employees except Ryan Howard, Stanley Hudson, and Toby Flenderson have attended Café Disco.