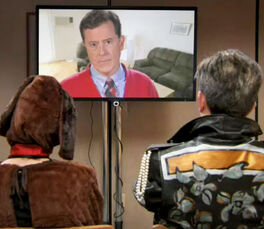 Broccoli Rob
is Andy Bernard's former classmate from Cornell, and was also a member of the a cappella group Here Comes Treble.
On September 20, 2012 it was announced that Stephen Colbert will be playing Broccoli Rob in the final season's halloween episode.
Andy lists Broccoli Rob as one of his a cappella group members that he invited to the wedding (Weight Loss).
In a deleted scene, Andy angrily tells the cameras as he washes animal leaving off his shoe that there is no way that Gay Mike and Broccoli Rob are having a better wedding than he is (The Surplus).
Michael begins to spread false rumors about his coworkers in order to throw off a true rumor about Stanley having an affair. He spreads a rumor about Andy that he is gay. When Kevin brings that up Andy begins to get really paranoid and asks if Broccoli Rob told him that (Gossip).
Andy says Broccoli Rob sent him a text that said "Boo!" and scared him, right before Robert California sends him a text that says "Looking forward to Halloween party. Expectations are high." which "scares the **** " out of him.
Broccoli Rob appeared in the episode Here Comes Treble (Episode). In the episode it is revealed he has lied to the a cappella group and claims credit for all of Andy's stories from college. When Andy is about to sing his signature song Broccoli Rob appears via webcam and upstages him. He and Andy argue before Erin turns him off.