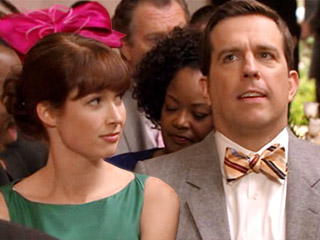 When Erin replaces Pam as receptionist in "The Michael Scott Paper Company," Dwight and Andy both begin to vie for her affection, battling in a guitar/banjo play-off to impress her. Andy is clearly Erin's favorite, but she is shy and he has very little confidence after Angela, so the relationship progresses at a snail's pace. Both would like to express their feelings, but hold back and maintain a flirty friendship-- much like Jim and Pam did for many seasons. During the episode "Get the Girl," Andy reveals that he truly loves Erin. Erin agrees and they start a relationship. However, a new employee, Pete, starts expressing interest in Erin and it seems to be mutual. When Andy goes on a three month boat trip and leaves Erin behind, Erin feels neglected and soon starts to bond with Pete. She soon realizes that she loves Pete and the two begin to date. 
Status: Broken Up
Ad blocker interference detected!
Wikia is a free-to-use site that makes money from advertising. We have a modified experience for viewers using ad blockers

Wikia is not accessible if you've made further modifications. Remove the custom ad blocker rule(s) and the page will load as expected.